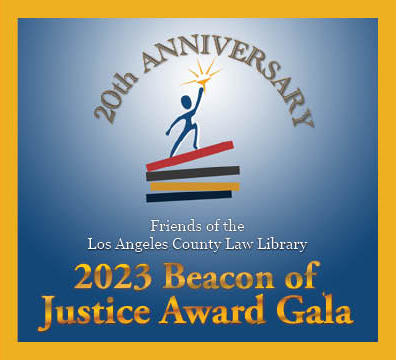 Honoring
Professor Isabelle R. Gunning
& Presiding Judge Samantha Phillips Jessner
with the Beacon of Justice Award
Guest Speakers
Robin Toma, Executive Director,
Los Angeles County Human Relations Commission
Judge Michelle Williams Court, Vice President, LA Law Library
Date and Time
Wednesday, April 26, 2023
Cocktails & Buffet 5:30 pm to 8:00 pm
Program begins at 6:45 pm
Location
Mildred L. Lillie Building of the Los Angeles County Law Library
301 West First Street, Los Angeles At First & Broadway Downtown
2023 Beacon of Justice Honorees
Please Join
Friends of the Los Angeles County Law Library
In Celebrating Our 20th Anniversary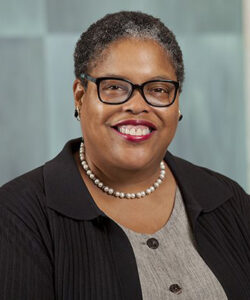 Professor Isabelle R. Gunning
Isabelle R. Gunning is the Mayor Tom Bradley Professor of Law at Southwestern Law School. Professor Gunning previously served as a criminal defense attorney with the Public Defender Service in Washington, D.C., and as a human rights attorney with the Southern Africa Project of the Lawyers Committee for Civil Rights Under Law. She teaches in the area of conflict resolution/alternative dispute resolution and Evidence. Her research interests are in multicultural and interfaith dialogue and the search for and creation of shared values in the context of racial and other socially defined power and hierarchy dynamics.
She practices as a mediator and an arbitrator, and works as a mediator/facilitator in support of resolving community conflicts and has been a facilitator of community hearings with Days of Dialogue and Trust Talks. In addition, she has over 15 years' experience serving as a labor arbitrator and hearing examiner in workplace disputes.
Professor Gunning also serves as a commissioner on the Los Angeles County Commission on Human Relations. During her tenure as president of the LACCHR (May 2016-2018) she presided over the hearings which lead to the report and related video of the LACCHR "Redefining Policing with our Community" (2020). She is a board member on the American Civil Liberties Union of Southern California and has served as the Affiliate's president, as well as the Affiliate's representative to the National ACLU Board.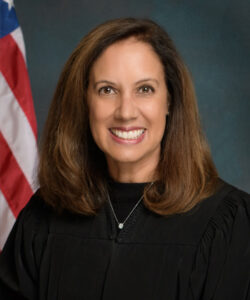 Judge Samantha Phillips Jessner
Judge Samantha Phillips Jessner is the Presiding Judge (2023-2024) of the Los Angeles Superior Court, where she has served as Assistant Presiding Judge, Supervising Judge of the Civil Division, Supervising Judge of the Mental Health court, and on many LASC committees. Judge Jessner is a member of the Supreme Court Committee on Judicial Ethics Opinions, the Information Technology Advisory Committee, and the Civil and Small Claims Advisory Committee of the Judicial Council of California. For many years, she has taught New Judge Orientation and CJER Qualifying Ethics curriculum, in addition to teaching other subjects.
Judge Jessner is a founding member of the Association of African American California Judicial Officers and a member of the National Association of Women Judges. In addition, she is often asked to be a speaker or panelist for many organizations, including ABTL, CAALA, and LACBA, where she speaks on a variety of topics, including jury selection, trial advocacy, experts, mediation, court technology, civility, and informal discovery conferences.
Judge Jessner began her legal career as an associate at Sheppard, Mullin, Richter & Hampton and then served as an Assistant United States Attorney in the Criminal Division in the Central District of California until she was appointed to the Court in 2007.